Siri say's it's 44 Degrees … I don't believe him ..
Yes, it's a him … I chose the (my opinion) hot Australian man's voice when a friend told me about it … I find I don't get quite so annoyed with him as I did the female Siri.  Seriously though … Siri doesn't know ANYTHING anymore … remember when she first showed up on the scene? — You could ask questions and get real answers…. I swear I've only gotten "hhhhmm, here's a website to check out .. " kind of BS answers in over a year or more.   Stupid.   But, I keep the bugger on to set reminders and tell me what the temperature is outside …
44° …. nah, I mean it can't be .. I'm in my backyard .. yep, the fabulous Colorado yard with a covered porch … and it's hot! Ok, not hot .. but not 44 degrees.  I have a sunburn on my right leg .. and it's January 23rd.   Lovely.
When I got back from the gym today, I made breakfast and could not not be outside!  It's like a warm April morning … the tip of Spring .. and .. ok, overkill.  I get it.  It is January .. and we've got tons and tons of snow and cold days ahead .. No big.  I did though, pop into the mindset of "let's do this!" and got caught up on some of my magazine reading and email junk.  It doesn't sound like much, but even getting through one or two magazines in my pile make me feel like I've accomplished something .. however small! 🙂
Now, I'm contemplating Cuba … Yes, it's the next destination on the agenda!  When I was cutting up mango this morning I was hoping there'd be plenty of them there … and man alive, I sure hope I can find someone to tell me how to pick a perfect one!  Seriously – one out of 5 I buy is perfect .. but that's just luck .. what is the secret?! – Ok, I'm off topic again..  But in any case, I'm getting more excited for the trip! Warm sun and mango and the Viñales Valley… Caving (is that a word?) .. the sea, the people .. having to carry a lot of cash – (ugh! – don't like this part) … but back to the good stuff … horses, old cars, music, dancing, the sea, history, the Food! …. Cuba … bring it baby!!    
                   
Viñales Valley Photo by: Severin.stalder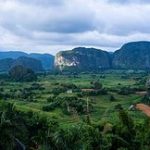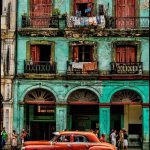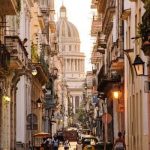 The top picture is of the Viñales Valley, as noted – the two in the middle are of Havana … and the bottom … the Museum of the Revolution – beautiful isn't it? – Can't wait to see it in person … it's near a little bar (see below) we're going to have to swing into …
So … then, the wine … we know Havana has rum and La Bodeguita del Medio (This is where the mojito was invented .. and it's said to be one of Ernest Hemingway's two favorite bars in Havana) ~ can't wait to check it out …. But … are we going to be able to find a local fabulous red? … I say, Of course we will!
Stay tuned.   Going back to my GardenandGun … and CondeNast .. and the sunshine …
Cheers and love,
Millie