Baby Blue — Was the Color of her Eyes …..
So, Yeah … I found this new wine.  I chose it, as I often do .. from the cool label.  I picked it for a new venture …. to somehow connect with the women/girls of our world when they need to cry or puke on their friends .. ya know …?   Spill it all?  And be safe? – I didn't expect to love it so much!!    But here you go folks …. Baby Blue … by #BlueRock, #Sonoma County … a Red Blend.  Buy it!! You'll love it.   http://www.bluerockvineyard.com/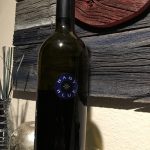 Are you singing in your head the song by George Strait?  I am .. and it's probably one of the 5 of his I don't really like.  It's not that it wasn't/isn't a good song .. because it is … It's heartfelt and heart wrenching… and oh, so sad.  That's why it's not on my "love it" list.  It's about his daughter that was killed and it breaks my heart, dammit.   Sooooooo, QUIT singing that song … think instead of a lovely person with eyes that shine with joy and mischief!  Think of the Blue Colorado sky …. or the colors of the sea .. the farther out you go, the deeper blue it gets … the color of the sky surrounding the harvest moon … think of that!   Beautiful and compelling.   Yes, that is this #RedBlend from Blue Rock … may I say thank you now for producing such a gem.  Another blue gem, pour moi!  Merci beaucoup.
Avec amour, à votre santé!
~m